In this space we publish the Minister's column for the current month, which is also published in our newsletter.  Please enjoy.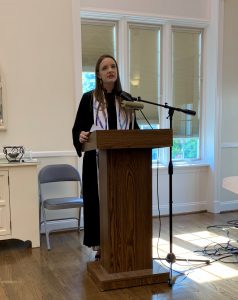 December 2021
Dear Channing members and friends,
Daylight too quickly turns to night as our trees turn from shades of green to brown and slowly become barren. We are in the heart of fall and all the beauty and eternal wisdom it offers. In the season of gratitude, I am thankful for you! I am thankful for your smiles as you share with me your joys. I am thankful for your vulnerable tears and the trust you have placed in me. I am grateful for each heartfelt question posed and each prayer we share.  I hold deep gratitude in my heart for the love and support you offered me when my stepfather died; I appreciate you. 
I appreciate the heart and soul of this church. In our over two years together, I see a profound love that, like our interdependent web, holds everyone together and keeps us connected to one another in sacred ways.  I see a dedication to the church and this community that is hard to match.  I see, at your core, a deep thirst for faith and spirituality.  And, finally, I see a group of profoundly resilient people! There is so much you have persevered through. You are a gem of a church. 
I am grateful to be your minister, and I hope that you are proud of yourselves! At this stage in the pandemic, we have accomplished two things that are currently rare in Unitarian Universalist churches: we have maintained our membership, and we have a very large percentage of members and friends regularly attending worship. This is wonderful! Last year, we had a very successful pledge drive, and we are gearing up for another one.  Together, we are bravely wrestling with the 8th Principle, as we maintain our relationships and connection throughout a global pandemic.  I invite each of you to reflect, what in this community are you grateful for? What are you proud of?
And yet, as the air cools and jackets become a necessity, we enter a season that may be hard for some folks. The holidays may be a time of great joy, and the holidays may be a time of sadness and hardship.  Know that whatever you may be feeling is just right. You are good, you are whole, and you are loved. I invite you, if you are joyous, to invite some others into your midst. If you are struggling, know that your community is here to help, as am I.  Please don't hesitate to reach out for any needs. 
In this season, I invite you into a time of rest and rejuvenation.  May we take time to pause and breathe in that chilly air.  May we slow down and give a beloved an unexpected hug. May we rejoice in the simple things. May we know we are held in love, this day, and every day.
Warmly,
Rev. Jane