In this space we publish the Minister's column for the current month, which is also published in our newsletter.  Please enjoy the July column.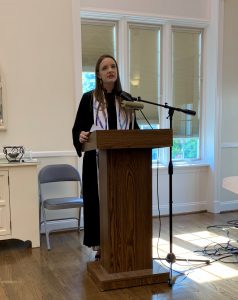 Dear Channing Members and Friends,
We are wrapping up our first year together! And what a first year it has been.  We moved buildings, switched to online church in the midst of a pandemic, and are now grappling with systemic racism and are part of a revolution.  We also got to know each other and grow together. I had the honor of hearing many of your stories and look forward to learning many more.  We laughed together, faced anxiety together, and managed grief and anger together.  What an honor it has been to serve you; I look forward to many more years together. 
Amidst this revolution, in the aftermath of murder, many folks are asking, "What can I do?" The church is responding.  We are considering a couple of concrete things we can work on together in the fall.  One is to engage with the proposed 8th Principle of Unitarian Universalism: "We, the member congregations of the Unitarian Universalist Association, covenant to affirm and promote: journeying toward spiritual wholeness by working to build a diverse multicultural Beloved Community by our actions that accountably dismantle racism and other oppressions in ourselves and our institutions." Together, we can explore this Principle and in doing so, deeply engage with racial justice.  If we do this work, we have the opportunity to adopt this Principle as a congregation, and bring this decision to the Unitarian Universalist Association so they can do the same.
To do effective external work, we also need to engage with deep internal work. We have the opportunity to do this.  In the fall, we are considering partnering with Cedarhurst Unitarian Universalist to work on the program Beloved Conversations.  This is series of workshops that enables participants to deeply engage with race and ethnicity, grounded in Unitarian Universalist faith. This is exciting for both congregations. We, as a church community, may also work together engaging with these issues in book groups.  There is important work to do, and I know that we, grounded in our faith and our Seven Principles, will make a difference.
I leave, now, for the duration of the summer.  During this time, you all remain in my thoughts and prayers. I look forward to hiking, visiting family in New Jersey, and reading a pile of books! I hope you find some time to relax and replenish as well.  You are a kind, compassionate, dedicated community, and I know you will continue to form and strengthen those bonds this summer.  We are physically apart, and spiritually together.
As I leave, I offer you these words to keep with you always: you are good, you are whole, and you are loved.  Again, what a remarkable first year we have had together. I look forward to what's ahead of us next!
Warmly,
Rev. Jane