In this space we publish the Minister's column for the current month, which is also published in our newsletter.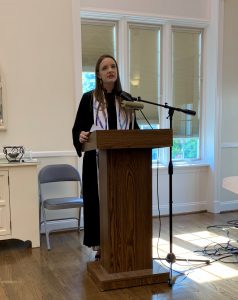 December Minister's Column
Dear Channing Members and Friends,
The seasons are passing by and I invite us all to pay attention to those tangible changes going on around us. Leaves turn brown and descend to the ground below. Days and nights begin to get chilly as we wrap ourselves in blankets or put on extra layers as we venture into the world. Even the smells change as nature prepares for those cold months ahead.
As I walk around my neighborhood, I can smell that welcoming scent of logs burning in the hearths of my neighbors. Each time I come across this smell, I am reminded of the holiday season, and all that this entails. The holidays lift up and amplify so many emotions. At best, we are reminded of love and family and the joy of being together. We prepare food and sit around the table in beloved company. We offer each other well wishes. At worst, these holiday seasons can bring with them sadness and loneliness. Perhaps this is the first holiday season without a loved one. I invite you each to take time to honor what may hurt, and to fully appreciate that which brings warmth to the soul.
As we enter this holiday season, we do so with a sense of Awe – this month's worship and small group theme. I look forward to exploring with you what it means that we are but a tiny piece of this expansive universe, the power of living a life of wonder and awe, and the significance of finding the divine in sacred mystery. I look forward to celebrating winter holidays with you as well. Through worship at Linden Hall and ritual at Park Avenue, we have a joyful and meaningful holiday season planned.
At Channing Memorial Church, we come together to be some-thing bigger than ourselves. We did this at Bread Communion, celebrating the many becoming one over shared grains. We are a beloved community. Last month, I asked you to share the sanctuary you have found at Channing with the world. I ask you again, whatever about Channing Memorial Church feeds your soul, share it with others in your lives! Let us each take time to invite others into our beloved community. Let these sa-cred invitations serve as a tangible way to share our gifts with the world and bring other beloved souls into our midst.
Warmly,
Rev. Jane