In this space we publish the Minister's column for the current month, which is also published in our newsletter.  Please enjoy the April column.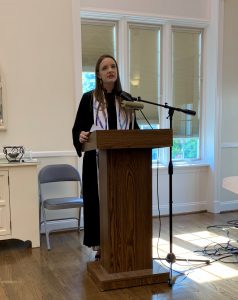 Dear Channing Members and Friends,
Last week my husband Eric and I were able to do one of our favorite things – we went on a hike. It was finally warm enough that we did not need sweaters, and the bushes and trees surrounding us were beginning to bud as the earth slowly shifts from brown to green. And in that space, we were able to marvel in the beauty that was all around us, find release, and laugh.
We are in unprecedented times.  All around us, there is news of isolation, of overwhelmed hospitals, and of unnerving predictions. And yet, Wendell Berry writes,
"When despair for the world grows inside me and I wake in the night at the least sound in fear of what my life and my children's lives may be, I go and lie down where the wood drake rests in his beauty on the water, and the great heron feeds.
I come into the peace of wild things who do not tax their lives with forethought of grief. I come into the presence of still water. And I feel above me the day-blind stars waiting with their light. For a time I rest in the grace of the world, and am free."
We all need those moments to be free.  To Wendell Berry, it is still water. To me, it is the budding leaves. 
To you, perhaps it is the serenity that may be found in alchemy of baking cookies, or stir frying that perfect mix of vegetables.  The release that comes when creating artwork, or the serenity of constructing a work of fiction.  Whatever it is, I ask you to embrace this activity.
There is a lot of uncertainty in the world. What I am certain of is that we will continue to be this sacred community, we will continue to connect and support each other, and we will continue to thrive.  Our web strengthens; we are not alone.
"For a time I rest in the grace of the world, and am free."
Warmly,
Rev. Jane