In this space we publish the Minister's column for the current month, which is also published in our newsletter.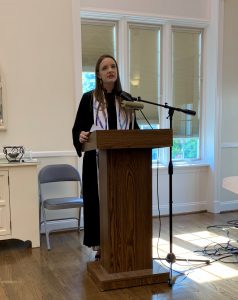 Dear Channing Members and Friends
February Minister's Column
It's been a chilly winter, and it's been a meaningful winter.  And while we breathe in this frosty air and the bare trees reach toward the sky, we continue to learn and grow together as a congregation. I have been here with all of you for six months now! It has been such an honor to learn your stories and travel this unforeseeable journey with each of you. 
I look forward to the month ahead, where together we will explore the theme of resilience. Together, we will take some time to lift up the resiliency of folks who struggle with mental health and addiction, populations so often overlooked or hidden.  We will draw on this message from Rev. Scott Tayler: "Ultimately, resilience is learning from your past rather than resenting it." How can we learn, and move from resentful to resilient?
And while we grapple with resilience and we join together in worship and small groups, Channing will continue to buzz and will continue to thrive! And this is because of each and every one of you: greeters, coffee makers, ushers, cleanup gurus, KidZoners, Worship Associates, Board members, committee members, committee chairs, the list goes on! This work you are doing is deeper than volunteering.  This work is service, and this work is ministry.  This is work that each and every one of you do because Channing is a family and because Channing is a home.  I want to pause and lift up these moments of ministry.  This ministry found in sweeping floors and lugging coffee supplies and taking meeting minutes and baking cookies and hosting book clubs.  These are holy opportunities to serve as a crucial part of this community and this home.  I thank each and every one of you for your acts of ministry.
As we enter February let us be grateful for the acts of ministry happening all around us. I look forward to seeing what this month has in store for us!
Warmly,
Rev. Jane