In this space we publish the Minister's column for the current month, which is also published in our newsletter.  Please enjoy.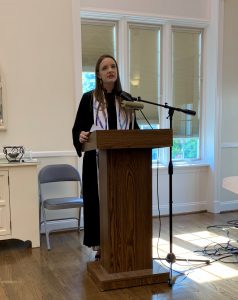 Dear Channing members and friends,
As a child, I moved around quite a bit.  My parents divorced, jobs changed, unexpected circumstances arose.  We moved from Pennsylvania to Virginia and eventually settled in New Jersey, and yet even within that town we occupied five different apartments! I am used to getting settled and creating a home, only to learn that things have changed, and we have to pack up and start again somewhere new.  This was hard at the time, but it also served to make me nimble, adaptable, and resilient.  My own story reminds me in so many ways of the story of Channing Memorial Church.  As a church, you have occupied several different buildings, moving from space to space as circumstances change, looking for that permanent space to call "home," and have grown in the process.
I am so impressed with the resilience these moves have given you! I am repeatedly delighted to see the strength and dedication of so many members and friends of this church. You are remarkable! You have also overcome a pandemic, stronger than ever before.  You repeatedly show resilience and strength.
Space can be anxiety-provoking and change can be hard. That is ok.  We each have within us our own history of space; I shared a piece of my own history with you.  We each bring this history with us as our church searches for a home.  This can make a space search a tender thing.  This is a complex, important issue. And we are doing it with strength and grace!
Next year, we will continue with temporary space.  Just as we have been doing, we will offer worship space on Sunday mornings and "everything else" space at another location.  This other location may be Dickey Memorial Presbyterian Church.  This provides us with exciting opportunities as we have more time to intentionally raise funds and engage as a church to find just the right space for us.
I hear your excitement and I hear your concerns.  We heard from some of you at our congregational space meeting and we will receive more feedback after we send out a survey. In regard to Dickey Memorial, I know some folks are concerned about the distance and the location.  We still have work to do to make it fully accessible, which is in alignment with our mission and values. I likewise know some folks are excited about the opportunity to engage in community projects in the surrounding area. Each space we engage with will inevitably have pros and cons, and yet we will enter this search together and find the place that best fills our collective needs. 
I have so much gratitude for our Space Team.  They have dedicated time and energy into finding us our next temporary spaces and will eventually find us our next home. Thank you!
We have overcome so much. We weathered a pandemic together and remained resilient throughout so many transitions. I am eager to see what the future brings us.  Throughout anything that comes our way, we are Channing Memorial Church – filled with love, dedication, caring souls, and joy.
Warmly,
Rev. Jane