In this space we publish the Minister's column for the current month, which is also published in our newsletter.  Please enjoy.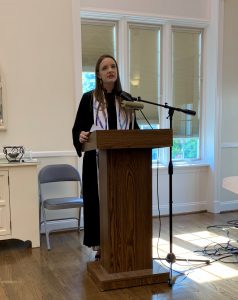 Dear Channing members and friends,
When I turn on the TV I see holiday advertisements flickering across the scenes! Tables laden with food or an ad for just the right gift.  We are entering into the holiday season, in the midst of a global pandemic.  While we already may feel overwhelmed or struggling with grief, the holidays may amplify this.  We may deeply miss those we love.  Some people we love may be alone this year.  While the holiday season may always be a hard time for some folks, this year it may feel even harder.  And yet, remember, there is still joy.
In the midst of these flashy ads telling us what to buy and where to buy it, I wonder if we can shift the focus from the external to the internal. I wonder if we can each find a way to connect with our holy – whatever our holy may be.  To some, this connection comes with a simple prayer. To others, meditation, or a nature walk.  Whatever it is, it can be simple. I am reminded of Mary Oliver's poem Prayer.
It doesn't have to be
The blue iris, it could be
Weeds in a vacant lot, or a few
Small stones; just
Pay attention, then patch
A few words together and don't try
To make them elaborate, this isn't
A contest but the doorway
Into thanks, and a silence in which
Another voice may speak.
Even engaging with some weeds peeking through the cracks will do, reminding us of life amidst difficulty.  Or noticing a small stone, a reminder of our strength that can overcome any obstacle.  We can engage with these elements of nature, we can speak words to our holy, we can meditate or we can simply sit.  Engaging with whatever we find to be holy can be a sacred way to heal.
And as we move forward in the holiday season, I look forward to celebrating within our special community!  Whether lifting up Hanukkah, Solstice, or Christmas, we will have time to come together in joy and celebration. No matter what goes on in the world, we continue to remain a sacred, vibrant community at Channing Memorial Church. Each and every one of you is held in love.
Warmly,
Rev. Jane