In this space we publish the Minister's column for the current month, which is also published in our newsletter.  Please enjoy.
January
Dear Channing members and friends, 
The winter solstice has recently passed, and we are now beginning to welcome a new season of warmth and light.  Long, dark nights are slowly giving way to daylight.  While nature begins this transition, we see an end in sight for the winter holidays.  Soon, we usher in a new year, a new beginning. 
We have spent the past month reflecting on the theme of Wonder, and throughout the month I have been considering a quote from Albert Einstein, "There are only two ways to live your life. One is as though nothing is a miracle. The other is as though everything is a miracle." I meditate upon the simple beauties around us that we could either ignore or remain in reverence of – it us up to us. We are invited each night to appreciate and revere the twinkling, dark sky, and to treasure in reverence each descending snowflake or raindrop.  These reflections are what this month has left me with – an appreciation for the simple wonders in our midst. This, and the thought of the wild improbability that I am even alive!  What reflections on wonder will you carry with you in the days, months, and years ahead?
After reflecting on Wonder, honoring darkness and light during our celebration of the winter solstice and Hanukkah, and celebrating hope and love through the holiday of Christmas, I am ready for a pause. I feel ready to find and connect to my center – what I call a "heart space." It is a time to connect with that still, small voice within.  How can I – how can we – pause with all we hold sacred, with all that is transcendent, and with all that is immanent? This is what we will grapple with as a sacred community in the upcoming month – the theme of Finding Our Center. I invite you to connect to your own spiritual practices in preparation for this journey.  
Again reflecting on that theme of welcoming the light, I wonder, just as we did while worshiping together, what light do you want to bring to the world? What goodness do you carry that you can graciously and generously share with all of those in our interconnected web of life?  I wonder, what do you hold within?
Warmly,
Rev. Jane

Warmly,
Rev. Jane
Warmly,
Rev. Jane Smith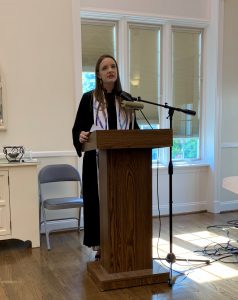 I