In this space we publish the Minister's column for the current month, which is also published in our newsletter.  Please enjoy.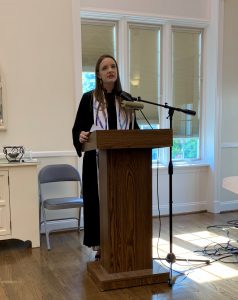 Dear Channing members and friends,
As I write this column, I gaze out my window at those shrinking piles of snow covering the grass.  Each season comes with its own gifts, and, to me, the gift of winter is that bright, crisp sometimes glittery snow.  This week marks the beginning of that change, too, in the elongated days.  We just celebrated winter solstice! The days are slowly getting longer again as we welcome back the sun. 
December offered our church community a time to pause.  Our theme this past month was Stillness.  We reflected on the gifts of mindfulness – that sacred ability to be aware and present in our own emotions and in our surroundings. We also explored the blessings of the dark – time for introspection, to center and be with self, to rest. Teacher and author Eckhart Tolle writes, "We have forgotten what rocks and plants still know; we have forgotten how to be still, to be ourselves." I invite us to be intentional about bringing this spiritual mindfulness with us into the months ahead – to remember the importance of that sacred pause. Thich Nhat Hanh, the Buddhist monk we explored in depth, writes, "Peace, happiness, and joy is possible during the time I drink my tea."
In the upcoming month, we will explore Imagination.  We will explore how imagination ties into theology and liberal religion. We will engage with questions such as, "What do you thank your imaginary friend for?" I look forward to exploring this theme in worship, our Small Groups, and our new Soulful Home programming.
As the COVID numbers continue to rise, I want to reiterate what I say so often: schedule moments in your day for self-care.  This can take so many forms! We can walk, we can immerse ourselves in nature, we can meditate or pray, we can bake cookies, we can listen to music or read.  What's more, we can simply allow ourselves to feel! It's ok to be sad. It's ok to be anxious. It's ok to be joyful! It's ok if these holidays drained your soul and it's ok if the holidays fed your soul. It's ok.  You are good, you are whole, and you are loved. Know that while you may feel alone, you are not alone. We always have this community. You are held in love every day. 
Warmly,
Rev. Jane