In this space we publish the Minister's column for the current month, which is also published in our newsletter.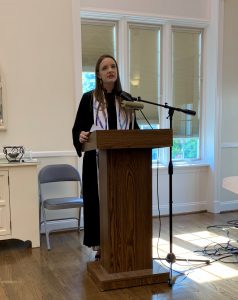 The days are cooling, the leaves are changing, pumpkin pies are in the making. It is a time of change and transition. Beautiful, and sacred.  It's a good time of year to sit outside and simply be, to enjoy the changing weather.  We are in the midst of a transition, as well. We just wrapped up our first full month in our new buildings.  I want to send a sincere and gracious thank you to all of the Channing members who helped make this transition possible.  We have had cleaners, movers, organizers – a multitude of important roles! Thank you. This transition shows the true strength and resiliency of Channing Memorial Church.
This month we will explore the theme of "Belonging."  We will grapple with dangerous binaries that lead to exclusion, reflect on the intense power of acceptance of the whole person, and ask ourselves, how can I belong to myself? We will wrestle with these concepts in worship and begin our first month of small group Soul Matters discussions. 
I also hope that this month you will come to our Start-Up retreat. Paula Cole Jones of the UUA will lead us through small group exercises, discussion, and reflection. We will talk about the history of our congregation and how this affects us today.  We will also discuss our shared goals and expectations. 
I leave you with a poem by Wendell Berry, entitled "A Dance"
The stepping stones, once
In a row along the slope,
Have drifted out of line,
Pushed by frosts and rains.
Walking is no longer thoughtless
Over them, but alert as dancing,
As tense and poised, to step
Short, and long, and then
Longer, right, and then left.
At the winter's end, I dance
The history of its weather.
It is not winter's end but summer's, and yet I hope you enjoy those little pieces of nature.  Perhaps stepping stones, pushed by scampering animals and pummeling rainstorms. Let us all live mindfully day by day, taking time to notice our steps and turn our steps into dances!  I hope we all find time to dance, to enjoy the season, to celebrate each other's presence. I look forward to a month of deep discussion and reflection.  May we all find our own sense of belonging of companionship and of deep caring, here, every day, as Channing Memorial Church.