In this space we publish the Minister's column for the current month, which is also published in our newsletter.  Please enjoy.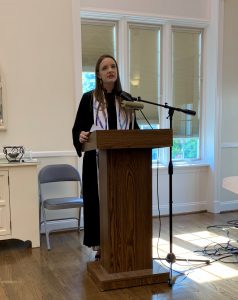 Dear Channing members and friends,
Each time I go outside the world seems greener and brighter.  As I watch the ground and trees transition from brown to green, as the landscape becomes peppered with tiny purple and pink flowers, and as the bushes fill with color and their petals emerge, I cannot help but be grounded in gratitude.  And yet my soul is filled with gratitude for more than the beauty and transcendence of nature; I am also grateful for our sacred community. I am grateful for each and every one of you. 
So many of our dedicated folks offer their time, talent, and treasure to this community.  We are wrapping up our pledge drive, and at this moment we have reached 95% of our goal.  We will likely reach 100%. This is wonderful! Our church needs money to survive, and folks are thinking hard about what they can contribute.  I offer sincere gratitude for each person who pledged this year. Every bit counts.  Thank you.
Not only are we thriving monetarily, but also in maintaining spiritual connection.  Due to the pandemic, over a year ago now, we shifted all church to a virtual format, highlighting inclusivity and a dedication to keeping everyone safe.  Each committee and team was forced to adjust and to change how things were done. That was hard work.  Each and every committee and team accepted this challenge with grace! Everyone took time to learn, grow, and adapt. Amidst all the pain and loss of this past year, we are still here, flourishing! Your hard work has not gone unnoticed.  Thank you.
I am grateful to everyone who keeps showing up.  This past year has been far from ideal, and I am so proud of this church for the strength and courage to keep on going, not only to survive but to thrive.  It is such a blessing to serve such a dedicated, compassionate group of people.  Last week in worship we spoke about the art of kintsugi, of fixing broken jars with lacquer mixed with gold.  Even though we all faced loss and grief, our community has mended with gold, in many ways more beautiful than before. 
Amidst all of this, we are also searching for our next home.  The Search Team will out a survey that I hope each of you can engage with. We have a couple different options ahead of us, including sharing space with another church. Following the survey, we will have a congregation-wide discussion.  I eagerly anticipate engaging with you all as we begin another chapter in the saga of Channing Memorial Church.  Together, as a treasured community, we will find our next home.  I am thrilled to be on this important journey together!
No matter where we are, we remain Channing Memorial Church, filled with a wealth of dedicated members and friends.  For that, I am truly grateful.
Warmly,
Rev. Jane