In this space we publish the Minister's column for the current month, which is also published in our newsletter.  Please enjoy.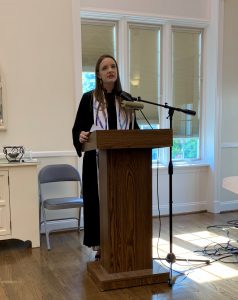 September 2022
Dear Channing members and friends,
This summer, my husband Eric and I are taking full advantage of the warm air and the
beautiful array of colors, hiking together along sections of the East Coast. Soon, however,
the air will start to cool as the days continue to shorten and the greenery Eric
and I find ourselves immersed in begins to fade to brown. This transition – each transition between the four
seasons – is a sacred time for me. It is a time to remember that inevitable cycle of life, joy and sorrow, life and death, each beginning, ending, and beginning again. This acknowledgement
led me to reflect on the cycles we are entering into as a church community.
We are at the beginning of the new church year  Together, we will celebrate, we will mourn, we will be filled with joy, and our hearts will break. As flowers retreat into the earth,
we will worship, be a source of justice, strengthen our souls and feed our minds. As we enter the active church year and leave the pause of summer behind, let us cycle together as
a sacred community with love and compassion as our guiding sources, leaving judgment and animosity behind. If you notice a beloved experiencing pain, offer a safe space to listen.
If you yourself are filled with joy, invite others into your midst! Let us be cognizant of how our actions ripple
throughout the interdependent web of life.
This church experiences a unique cycle – sometimes settled
in a building, sometimes searching. This year, we will continue
to look for space, and with this note, I offer a reminder. We are not a building; we are a community – a
tightly knit community held together by bonds of love and faith. No matter what lies ahead, we will get there together. We are in this together. What else can we bring to our community
as the cycle of the new year begins? Our world is in disarray. Illness, war, and climate crisis are all too familiar.
At this time, I feel our hearts are yearning for belovecommunity. Let this church be that community.
Let us practice radical acceptance with minds open and welcoming to the beautiful diversity that is humankind – we can create, nurture, and sustain that flower garden
of humanity. Together, we can bring love to an aching world, and solace to those in our midst.
So let us embrace all of life's cycles! Bask when joyful and reach out when in pain. Be present to new life and
know that others are leaving this realm. We cannot have one without the other. Let us embrace these inevitabilities, celebrating and honoring all that life offers. I am
excited to enter this new church year with all of you!
Warmly,
Rev. Jane