In this space we publish the Minister's column for the current month, which is also published in our newsletter.  Please enjoy.
May
Dear Channing members and friends, 
Nearly every Sunday afternoon, my husband Eric and I pack up a bag of snacks, lace up our hiking boots, and begin a journey in our car from cul-de-sac filled suburbs to tamed farmlands to largely untouched, remote parks, filled with trees and underbrush.  Spring is my favorite time to hike, because I get to watch in real-time the earth and vegetation shift from a cold, dry, brown to lush, revitalized greens, purples, and blues.  My favorite are the flowers – those first vibrant petals of the season, peppering the ground with color and fragrance. These past few Sundays, traversing the increasingly bright terrain, I've been thinking about the budding and blossoming of our church community – we have a worship home! And we have been attracted to this new church building as a bumblebee to a daffodil – joining together for worship and coffee hour that feeds our souls and brings us to life.
And yet for a flower to blossom and grow, it must be tended to. The flower needs water and nutrients soaked up from the earth below, wind or flying insects spreading the life-giving pollen, and sunlight turned to nutrients in the outstretched leaves. Along with this beautiful, new space, our community has its own needs, which are plentiful – Religious Education volunteers, Zoom tech help, after-worship cleanup, and Outreach Team members, to name a few.  To flourish, we each need to contribute.
Volunteering is a spiritual practice, just like a pause in meditation, a walk in nature, or a whispered prayer to all that is holy. It connects us to something greater than ourselves – our church community, with its collective search for spiritual growth. Often, just like nutrients below the earth, the work is unseen, unheard, and uncelebrated – committee meetings, emails, coordination, or website updates. And yet even the most mundane of tasks becomes meaningful if backed with intention; it is a way to give back to that which gives us so much.
I first entered a Unitarian Universalist church in my early twenties. I found a faith and a group of people that healed my aching heart and offered a life-giving community – two things my soul desperately needed. As I began practices of prayer and meditation, I also began practices of giving back.  I became a Worship Associate, joined the Membership Committee, and started a Young Adult Group. I found that through these tasks I created even deeper bonds with other congregants and that my day-to-day life became more meaningful.  Just as I walked in nature to watch the flowers bloom so, too, did I sit in committee meetings and clean up after potlucks.  I did what I had to do for that which offered me life.
So may we each contribute to this blossoming church. May we offer our own time and talent, feeding that which gives us so much. Just as a tulip needs its leaves, as a pansy needs its roots, so, too, does Channing Memorial Church need each and every one of you.
I am grateful, and you are loved.
With love,
Rev. Jane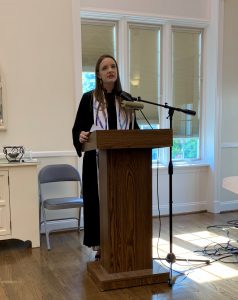 I