In this space we publish the Minister's column for the current month, which is also published in our newsletter.  Please enjoy.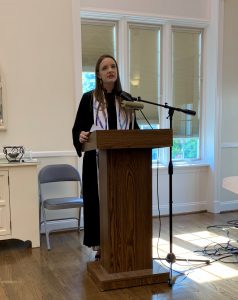 May 2022
Dear Channing members and friends,
Following our church Easter service, after quickly finishing what we lovingly called our
"Easter cupcakes," my husband Eric and I went on a hike. We do this every Sunday, but
for whatever reason, this particular stretch of dirt alongside a lush and running stream stood
out to us. We paused in the chilly air, took in our surroundings, and thought, "life is good." It was one of those
moments I preached about, when something simple in life hits, and brings with it unexpected tears of meaning.
Our theme for the upcoming month is Nurturing Beauty. Reflecting on this while planning for the month ahead has offered me solace, breathing room, and an awakening to hope. There is good and beauty in the emerging green leaves, in the laughter of a child, in a quiet moment to sip tea, in a particularly meaningful poem or in holding the hand of another. It is there. Also, there is our never-ceasing
ability to be a cause of good in this world. I think this is particularly important to remember when it feels like the whole world is in pain. We are all interconnected in the web of life; what we do affects all. A smile to a stranger that brightens their day, a chance to listen to a story of hardship and offer compassion, helping an ailing neighbor get groceries – these not only heal those present, but the spirit of goodness and love ripples far beyond what we could imagine. It is the same with our prayers for peace. This is beautiful.
This offers me hope. Hope that through my intentional actions the world becomes a bit better. Hope that if we all work to do good, the world can heal. Hope that even when things are hard, there will ultimately be a bright blue sky above us. When we look for it, hope can be rampant. Let us not forget this. There is still good in the world. Love will always be more powerful than hate. Hope puts love into action. If we navigate our lives through  the power of love, we will find those small moments that remind us of inherent goodness and bring unexpected tears to our eyes. That, to me, is beauty. So today, and every day, I invite you to be aware of those small moments. I invite you to find little pieces of that hope and beauty that surround you.
I know we are disappointed about the loss of Sunday morning space. In this disappointment, I see the strength and resiliency of our faith community. Together, we will get there. Let us join together and anticipate the beauty in our future! 
With love,
Rev. Jane