. . . we gather here, in this sacred
space, to worship in love,
and it is good.
Welcome to a community which welcomes all ages, people of all gender identities and religious backgrounds.  We are real people:  broken and mended, imperfect and growing, questioning and seeking, striving for meaning and purpose.  This is a very special spiritual home, where we offer our children (and adults) the opportunities to explore the wisdom of the world's religions, and remind ourselves how to care for one another.  We want to be a place that makes a difference – for our children, for our individual religious paths, and in our community and the world.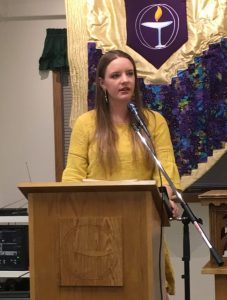 Our services are at 10:30 a.m. on Sunday.  If you are new to us, you are not alone!  Those of us who are here to greet you found our way to Unitarian Universalism from other traditions, or other Unitarian Universalist congregations, and many who didn't have a formal religious upbringing but who later figured out "we were UU's and didn't know it."  We've grown as a congregation from the diversity of newcomers who, like you, have found their way to our doors and found a good fit here.
 After Worship: We have informal time for chatting with one another, and for enjoying coffee and snacks. One Sunday each month, we invite the congregation to a more formal time to reflect on the questions related to our "Soul Matters" monthly theme.  "Soul Matters" Packets are available in the lobby for anyone who wishes to go deeper, with individual reflection during the week.
Learn more about a typical worship service at Channing here.
Click on Sermons to see excerpts from sermons exploring spiritual issues of our community and the world.
---
 Sundays For Children…
We are a church of the open minds, loving hearts, and helping hands.
Channing Memorial Church values religious education for Unitarian Universalists of all ages.  Currently, our Religious Education offerings are in transition. Below, you can see what we have offered traditionally and hope to return to in the future! If you have children and are interested in engaging with the church, please send Rev. Jane an email at minister@channingmc.org.  The more we know about interested families and children, the more we can offer!
The first part of most Sunday morning worship services is multigenerational.  We believe that children and youth have something special to offer, as does everyone, and they are often invited to light the chalice, share a song, or help with the story for all ages.  Classes begin when the children are sung out after the story of all ages and end at 11:15.   Many of the lessons end with 5-10 minutes of concentrated reflection, a closing ceremony, or group discussion. 
Our nursery and preschool room opens 15 minutes before the service at 9:45. The nursery is open until coffee hour.  We have toys, books, and activities for the little ones to explore spirit, community, and self. We have a nursery attendant and wonderful, caring volunteers who will attend to your child's needs so that you can participate in our worship service.