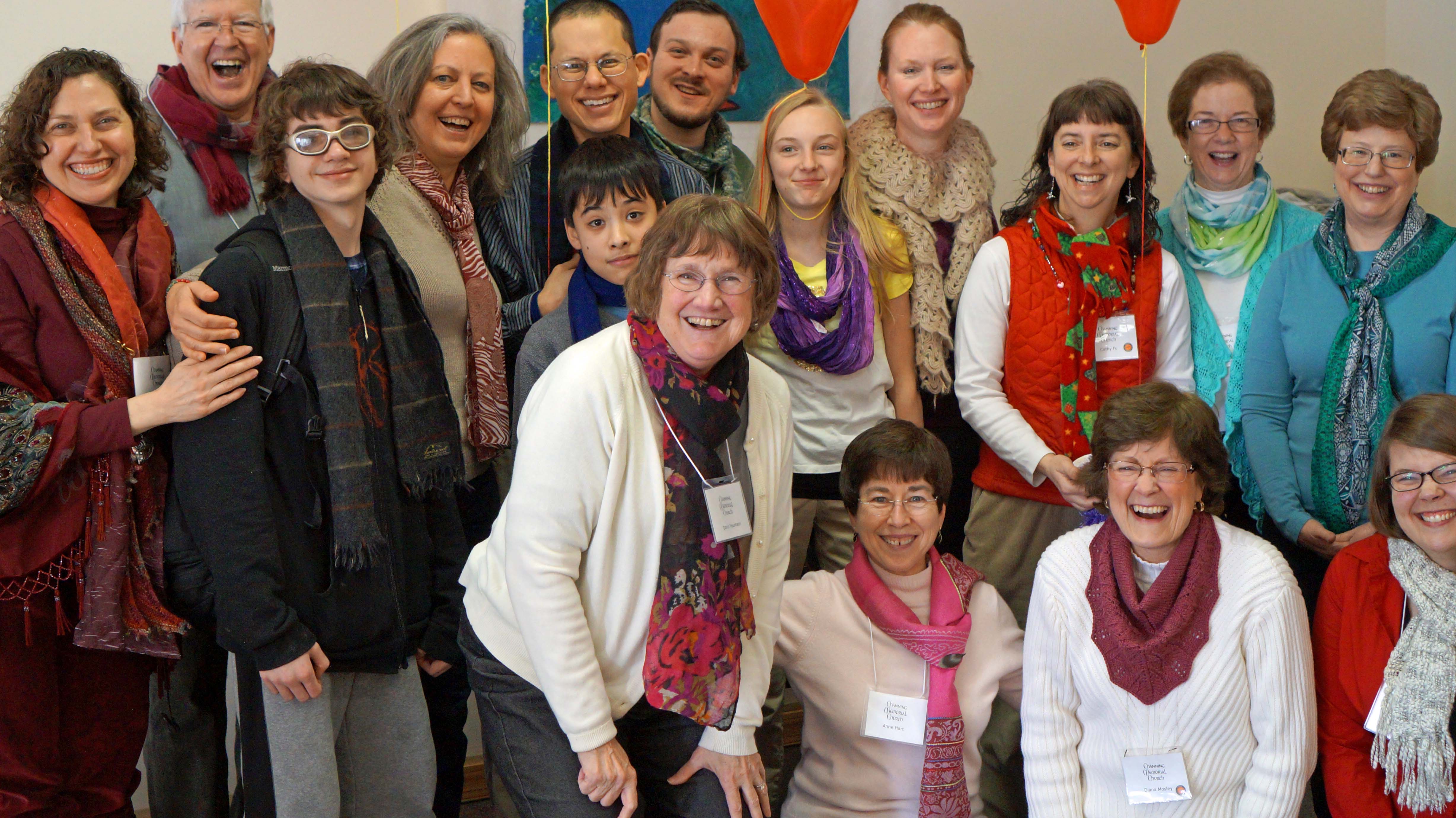 Can I just show up? What happens if I don't know anyone?
Everyone–congregation, minister and staff–will make a special effort to welcome you into the Channing community and help you become as involved as you want to be. A greeter will help you when you arrive.
You don't to dress up, unless you like an excuse to do so!   We welcome you whatever your religious background, gender identity, skin color, age, hair color, etc. You are welcome here.
Once you've come to a couple Sunday services and learned a bit about us, we hope you will decide to keep coming.   And, if the spirit moves you,  become a part of the Channing community in other ways.
What time are your worship services? Where?
Sundays at 10 AM; 3220 Corporate Court, Suite C, Ellicott City, MD 21042.
How do I get there?
What do you have for my children?
There is a nursery/playroom for infants, toddlers, and pre-schoolers; and childcare is available. Children and youth usually participate in the first part of the worship service. We believe that children have something special to offer, as everyone does, and they are often invited to light the chalice, share a song, or help with the story for all ages.
After being sung to class, elementary and middle school children have lessons that strengthen their understanding of our faith community, embrace their ideas, and encourage them to spiritual growth. High school youth are encouraged to participate in the worship service. A Coming Of Age class is offered alternate years for 9th and 10th graders which includes a trip to Boston and creating personal credo statements.
More information:
If my child is hesitant to go to Religious Education, can he/she stay with me?
All ages are always welcome to share in our worship services. If you have a young child, they are welcome to join class or go to the nursery room at any time during the service.  We do our best to make your child feel safe in our community so that they feel comfortable.
What can I expect at services?
Music, meditation, readings from many sources, sermons without easy answers.  If a sermon leaves you with questions, disagreement or just wanting to talk or think more about it, we may have  "Sundays After" discussions led by our minister or other members.  Or just gather informally after services for refreshments and conversation.
What do you have for adults? 
We offer an active small group ministry program with courses and discussion groups.   See Channing's Men's Group and Covenant Circle for details. 
I'm gay. I'm lesbian. I'm transgender. Will I be welcome?
Count on it. Whether your sexual orientation is gay, lesbian, transgender or straight, there is a safe place here for you, read more… 
We're an interfaith couple. I'm an atheist. I'm trying to figure it all out.
At Channing, we try to look at life's questions from in and out and up and down. Each of us must seek our own answers, but it is easier within a community of seekers than alone.
How do people dress for Channing services?
People wear anything from casual to business wear.  Wear what makes you feel comfortable.
Are there social activities?
Coffee hour every Sunday after services,  Craft Circle, potlucks,  discussion groups,  occasional nature walks and an annual congregational auction and dinner.
How do I find you?
Go to our Directions page.
What if I still have questions?
If you still have questions after reading this page, please call on anyone from our Contact Us page to answer your question.